My Closet Tour
To be totally honest, I'm quite nervous about this blog entry.
The story of my closet transformation
It has been more or less two years now since I transformed my closet using the Konmari Method. My closet is far from perfect and definitely not a glamorous celebrity-level one. But through decluttering and few organization hacks, I'm quite proud to say that my closet has been transformed to a space of joy, gratitude and a sense of self.
So let me give you a tour of my closet and drawers as an end-result of learning how to declutter and store my clothing items properly.
When you are an impulsive buyer and bargain lover like me, you know that maintaining an organized and uncluttered closet for two years is pretty much an achievement! There are times when I still can't believe that I did it!
These are some photos taken before and during my clothing decluttering process.
Our little walk-in closet in our master bedroom houses everyday clothing for my husband and I. I will save my husband's closet tour for a future post (primarily because he has not yet finished decluttering!).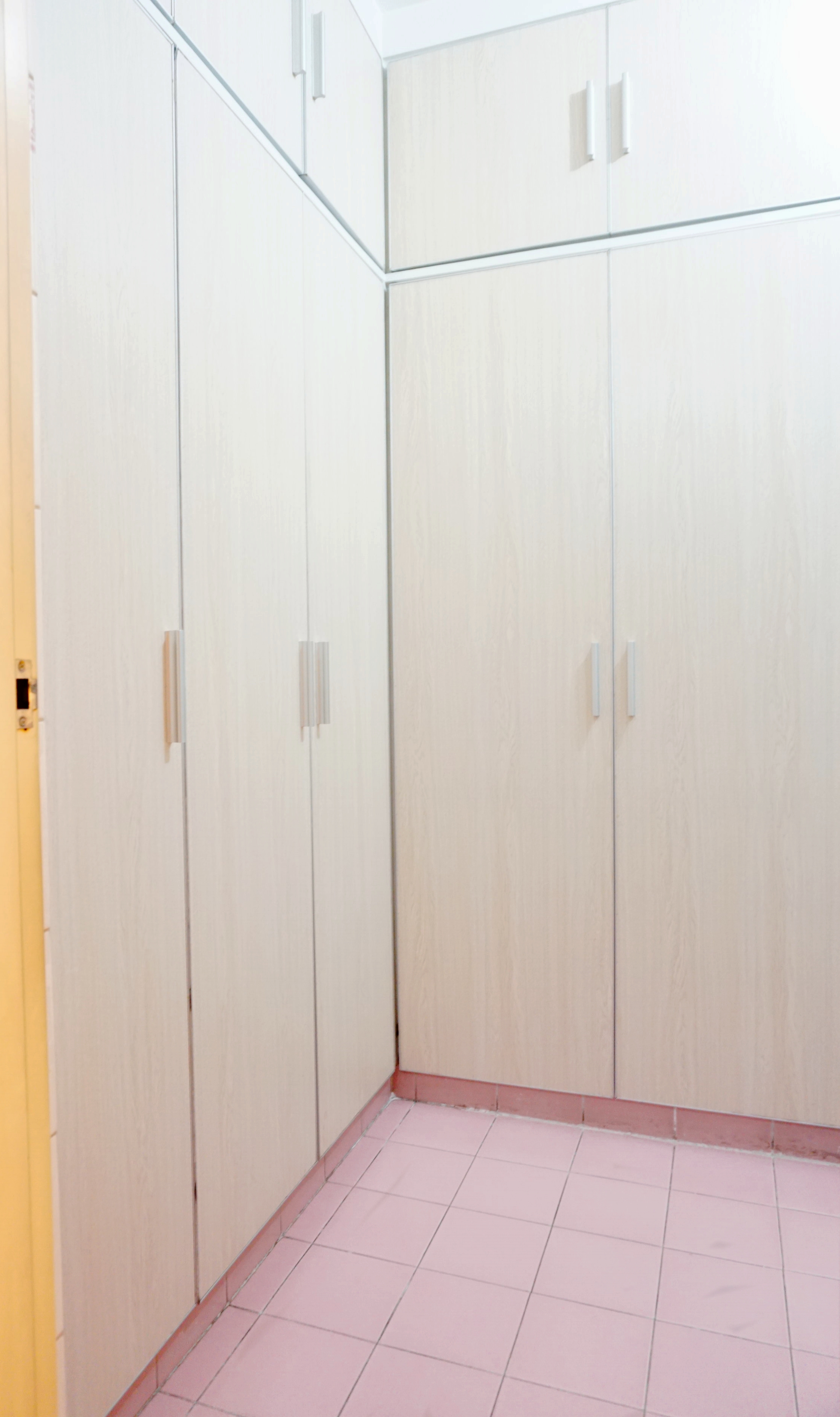 Our little walk-in closet
We've used our master bedroom's walk-in closet to house everyday clothing for my husband and I.
My everyday (office) clothes are mostly hanged. I used these hanger organizers to keep the clothes in place. Aside from being pretty to look at, it's easier for me to choose what I wanted to wear. I made sure that everything that is up here spark joy to me!
Sadly, our built-in closet is full of shelves and zero drawers so I decided to invest on plastic drawers to store my t-shirts, undergarments and other clothing items. This made my hanging area less cluttered.
The plastic box at the bottom left contains my off-season clothing that I only use when traveling. Always remember to only keep those that you see yourself wearing again when you travel!
My casual t-shirts are all neatly folded and filed vertically. I used to worry that folding my shirts will make them wrinkled but filing them vertically and making sure that the content is only 90% full proves otherwise. I got these plastic drawers from Handyman at Php 600 each. It's quite pricey but it's actually the cheapest I found of its quality and type.
Konmari Method of
Storing Shirts
Fold shirts into rectangle, file vertically and fill your drawer 90% full.
The other drawers contain clothing items that are better folded like cardigans and knitted tops.
My undergarments, socks and handkerchiefs are stored in the smaller set of plastic drawers I got from SM Department Store. I can't remember the price but it shouldn't go above Php 500.
Oh, you can't imagine how much joy it brought me when I finally discarded those beaten up socks and worn out undergarments! We wear these closest to our body so it's just right to choose something that really makes you feel good. If you haven't, please please please invest in high quality and comfortable undergarments and store them neatly!
Organizing my "pambahay" (lounge wears) and sleep wears are the most challenging one because they are placed in a very wide and deep shelf at the adjacent closet. If you look at the before photo, I used to stack them all up in a pile and this made storing and retrieving of my clothing items such a nightmare! To be able to fold and file them vertically, I used boxes to partition and hold them upright. I'm still on the search for the perfect storage containers for these, but for now, I'm happy that this solution works!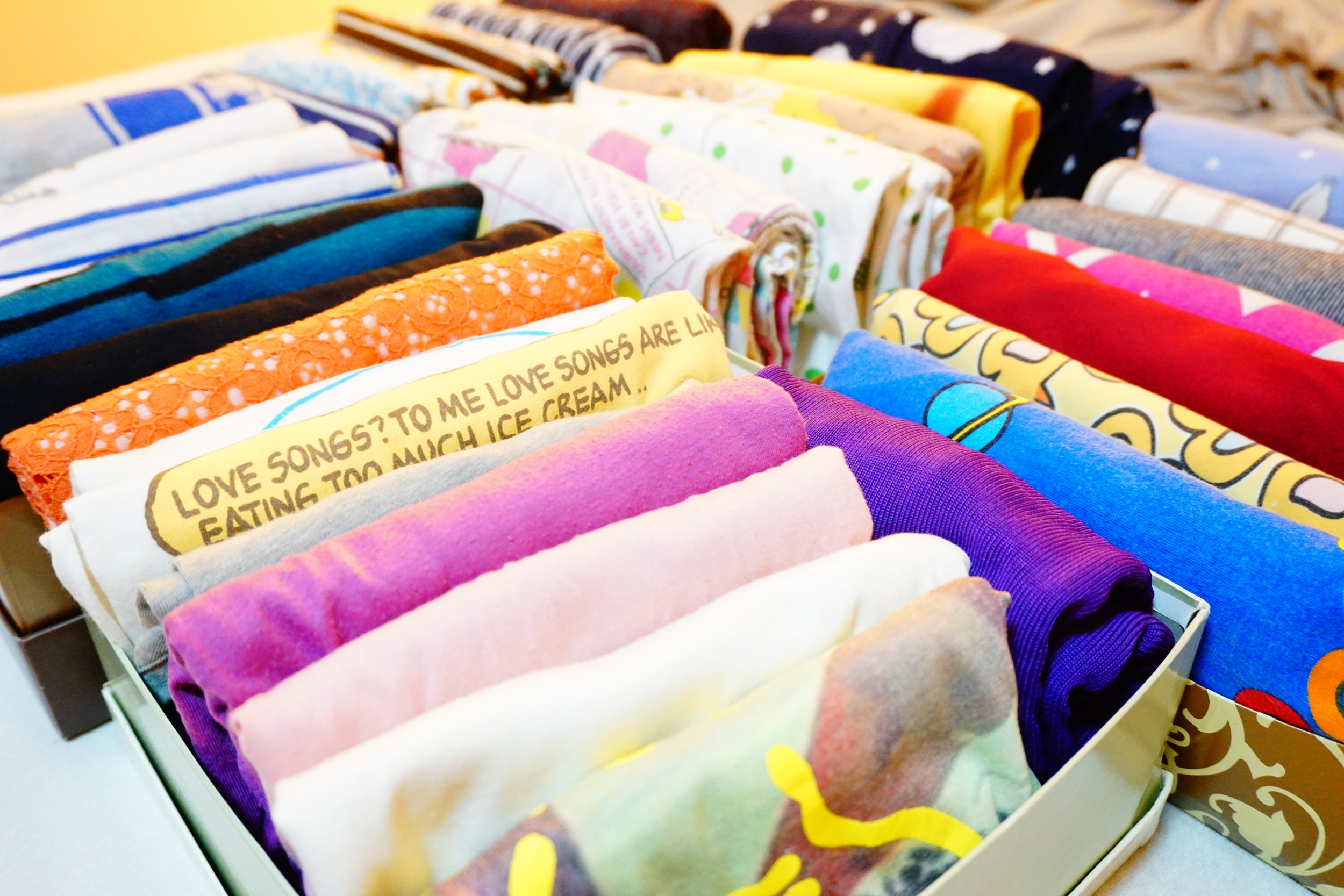 Because of the limited space in our bedroom closet, I chose to store my less-worn clothing items at our other bedroom's closet. We have a full closet here, but I challenged myself to only use one part of it.
I hanged all my dresses in this space. Look how pretty your closet can be when you use uniformed hangers! By the way, I got these velvet hangers for free in SM Department Store when I bought the hanger organizers I used in my main closet!
Thank God we have a few drawers in this room! I've used two of them to store my work out clothes and swimming apparels.
So that's my closet tour! Aside from that sense of joy of having an organized closet, being able to fully declutter my closet allowed me to clearly understand my sense of style.
Looking back, I would usually find myself staring at my stuffed closet yet feel like I don't have anything to wear. Ironic right? How can you not have clothes to wear when your closet is bursting of it? Worse is, this urge you to buy more clothes turning your closet to a total mess.
The truth is, I never needed more clothes. What I need is to lessen them. After decluttering, I was able to discard items that:
I don't/won't/will never wear
I can't match with anything
Are worn out or damaged
Annoyed me whenever I wear it
Do not fit me
Do not make me feel and look amazing
Only after I stripped my closet of the excess that I began to unveil my ideal wardrobe that is a true reflection of me. The clothing items I've kept and stored neatly easily showed the elements of my personal style. It's now easier to cherish and wear them. I buy less clothes now and when I do, I can confidently spot which items belong to my "wardrobe mistake" and which ones is worth my closet space!