How the KonMari Method Changed My Life
As what I've mentioned in my introduction, I have always had a knack for organizing which began as early as I can remember. All things orderly and tidy just make me squeal with glee! But while I felt like I am passionate on organizing things, I also felt like it was a constant struggle. It seemed like any time I would organize a space, it all too soon become cluttered mess again. I was never contented.

I realized this even more when I got married and we had our own home. A couple of months in, I found my space full of stuff already - most of which are shared items, and I have to keep organizing every week just to keep them orderly. I grew tired of organizing.

As I was getting frustrated by the growing clutter at my home, I stumbled on a little book called "Spark Joy" by Marie Kondo. This is the author's illustrated guide to her first book titled "The Life-Changing Magic of Tidying Up - the Japanese art of decluttering and organizing".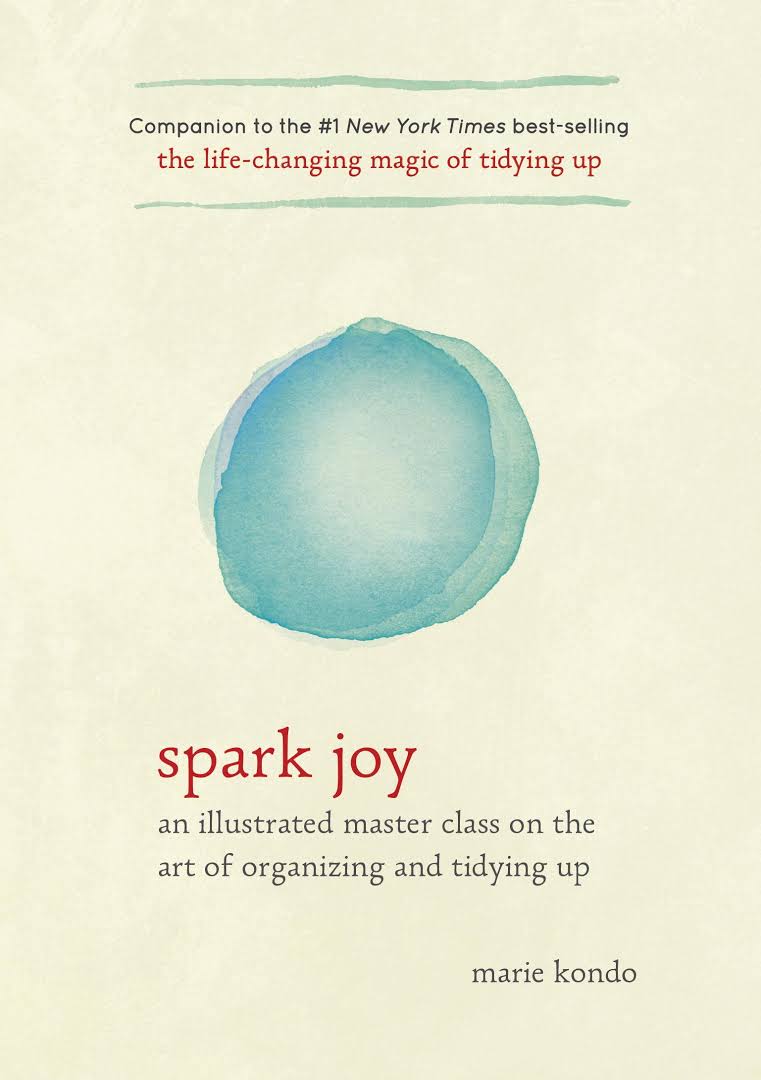 I actually saw the first book making rounds online, but I was too skeptical just by reading its title. I probably got weirded with the fact that decluttering and organizing are considered as an ART. I thought, it must be some technical and complex method, or maybe a minimalism self-help book.

When I got the chance to skim through the second book, "Spark Joy", I was immediately drawn in by the cute illustrations on how to fold clothes, store accessories and what nots. Since I am trying to find a solution on my organizing problem, I thought this book might actually help!

I finished the book within a week, then re-read everything as I religiously apply each tip and step prescribed in the book. It really is like my manual in tidying up each category of my belongings. I loved the book so much that I eventually bought the first book as well.

Here are some photos of our "Konverted" spaces at home after I read the book and applied what I learned.
Almost a year after following the KonMari method, I will be honest to say that not all of the tips stuck with me. I had to change some just because I found some other strategies that work better for me. As Marie Kondo says, as long as it makes you joyful, that's fine!

But there's just no denying on the "magic" of the KonMari Method on me. It went beyond the transformation of my home. It changed my lifestyle and life in general. I wish I could capture them in photos, but hopefully you get to have a glimpse of my heart through my written words below.

My self-worth elevated
Being able to declutter my space of things that distracts me gave me an instant freeing energy to focus on myself. Being surrounded with things that spark joy to me, I now indulge myself to all things that I like and love.

I now wear my favorite pieces of clothing that I used to save for special occasions, I indulge myself with a hearty breakfast in the morning using the pretty plates and mugs I used to keep in the depth of my kitchen cabinets. I get to religiously apply my skin care regimen because they are neatly organized. I don't settle on things that don't make me joyful anymore. These small daily indulges remind me that every day is worth celebrating because I am worth it.
My decision making ability improved

By taking on my tidying journey using the KonMari method, I indeed honed my sensitivity to joy.
The simple exercise of deciding which belongings spark joy to me helped me know myself better, and clearly identify the values that matter to me.

I now stopped buying fast retail products and invested on classic and quality clothing pieces. I plan ahead on my shopping list instead of instantly hoarding unnecessary bargain products. I research on products I like to buy before ordering them online.
I started with baby steps of asking myself which of my 30 pairs of socks spark joy to me, to practicing mindful consumerism now. I am a serial retail shopper who loves anything cute and pretty, on bargain and on trend. Needless to say, this has been a big switch for me and our finances!
My sense of gratitude became deeper

While I don't strictly followed the Konmari's way of literally thanking your personal belongings before letting them go, I developed a deep sense of appreciation towards the things that I keep and use.

I ended up taking care of my things better, and treating each of my belongings with respect. Respect of using them with care, assigning them and putting them back in their home, of letting go of them once they have served their purpose.

I gained more time to focus on things that matter most to me

A tidied space means more time. More time means more energy and more energy means more joy! I've said goodbye to those wasted minutes finding the stuff I need, wasted hours trying to tidy while cleaning, wasted days trying to re-organize my space again and again.

All the time and energy I freed up from unnecessary clutter, I now spend on reading a good book, learning something new, talking to my parents over the phone longer, mentoring my colleagues, sharing life moments with my husband, and more.
I discovered and pursued my passion
Creating a joyful space in my physical world urged me to also create a joyful space in my life

Creating a joyful space in my physical world urged me to also create a joyful space in my life. It took me 10 years to finally make room in discovering and pursuing what I really wanted in my life.

The KonMari method has taught me to let go of my attachment to what I've been doing for the past 10 years, and to let go of my fear of the future. Indeed, it is a liberating and joyful experience. It has now lead me to creating this blog and committing myself to start a new without clutter and it has been the most joyful surprise in my life!